Erasmus in Las Palmas de Gran Canaria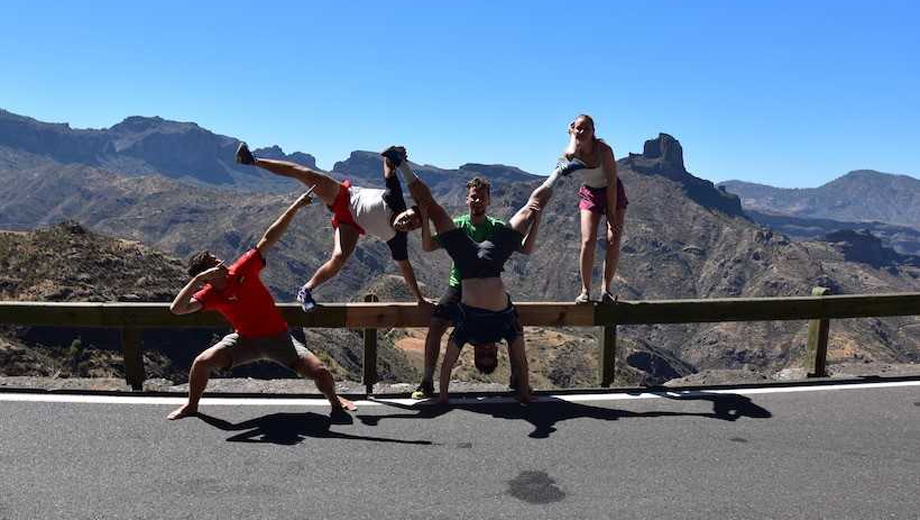 Through the Erasmus+ program, I was given the opportunity to live and study in Las Palmas de Gran Canaria for one semester. At first, I was indecisive as there are many interesting destinations offered, but in the end, I chose the Canary Islands as the language and culture but also the beautiful landscape and the sea seemed very attractive.
Living in Las Palmas de Gran Canaria
When you live in Las Palmas you should never be in a hurry. If it is standing at the checkout or waiting for a university class to start, you should get used to a slower way of life and learn how to relax. Also, everything starts much later. Many shops don't open before 9 or 10 o'clock and might close for siesta again at 12 or 1, sometimes three hours. In return, they are open until 21:30 or 22 o'clock at night.
Beneath the university obligations you can enjoy all kinds of water sports like kayak, sailing, diving and surfing but also go for the weekly football matches, play paddle, do calisthenics and running in the parks or by the seaside.
Out of the city you can explore beautiful beaches, go hiking in the mountains or barrancos or do a trip driving the mountain roads by car or bicycle.
Also, the night life is vivid. You can go out nearly every day. Especially in summer there are many music festivals or people like to meet at the beach and bring their own music, food and drinks. Often, people also bring their own drinks to the festivals or to the front of bars to enjoy the music for free. Besides you can go to disco clubs, learn to dance Salsa or Bachata or choose to go for some Tapas at a local bar.
The University and first steps
Without knowing a lot of Spanish, I, like most Erasmus students of my faculty, was still confused after the information meeting.
The semester started before most of us were matriculated, but don't mind! Everything just seemed not to be stressing anyone. In the end the staff was really kind and tried their best. Also, the professors seemed to be happy and very interested about having an Erasmus student in their class.
After the intensive language course, I wanted to continue learning Spanish with the University language course which I didn't really like in the end.
The other courses I took, were in English. They were too easy and I guess by taking classes in Spanish you can learn a lot more.
School practice
After it took the University nearly a month to organize my school practice, I could find that they chose a really welcoming little private school between the University and my flat.
Depending on the school, your teaching practice can be very different.
I could choose to attend any lesson of the primary and nursery school, go with the German or English teachers. It was interesting to learn about the routines and rituals by spending a long period of time at that school. I learned about day to day problems and how they solved them. Although I wasn't always in common with the teaching methods, I got a lot of inspiration to reflect on. Moreover, I really liked to be able to participate actively without having to plan a lot. Depending on the teachers they involved me more or less in their lessons, finally I could teach myself in the German and English classes.
Accommodation and Living Costs
I would recommend moving in a flat with locals or other Spanish speaking people to learn the language the best and get to know the way of living. Still, it might be easier to find a shared flat with other Erasmus students in one of the several Facebook groups.
The price for a room is about the same as in Graz. Most Students prefer the areas around Plaza España, Mesa y Lopez or close to the surfing spot la Cicer. Here you also find all kinds of restaurants, bars and clubs but also surf shops and shopping centers.
Traveling
Moving around the Canary Islands is easy going by bus, which they call "Guagua". One ride in Las Palmas is 1,40€ but you can get a card to travel for 85c in the city. Also, the monthly bus ticket to travel all the island can be easily ordered online for 28 Euros per month.
To discover the mountains and secret sports of the island you can find a little group and rent a car starting at 15-25€ per day.
To explore other islands and the Peninsula, the Spanish mainland, there are ferries but sometimes even cheaper flights. If you like travelling I would recommend applying for the Canarian Residence to get travel discounts up to 75% on flights and more reductions.
Climate
Who wouldn't like to escape the freezing winter temperatures and live where others go on holidays? It's true that you don't need your warmest winter jacket, still it can get cold at nights, especially in the mountains and on the beaches when there is wind, too. Bring some long trousers, sweaters and a rain/wind jacket. Also, a sun cap and a hat against wind are never wrong. Last but not least don't forget your swimwear!
Resume
Las Palmas is a really great place to make new experiences and meet new warm-hearted people: It is by doing sports, trying new ones, in your new flat or by going to Erasmus events or music festivals.
You can do several sports, enjoy the sea, the mountains, travel, enjoy an open-minded culture, eat great food and much more.
Links & useful information
University
ULPGC Universidad de Las Palmas de Gran Canaria: https://www.ulpgc.es/node
Facultad de Ciencias de la Educación (Campus Obelisco): http://www.fcedu.ulpgc.es/
Erasmus contact
Relaciones Internacionales de Humanidades (Erasmus Office): rrii_humanidades@ulpgc.es
Elisa María Ramón Molina (Coordinatora): elisa.ramon@ulpgc.es
Mobility
Bus – Guagua
Plan your ride
https://www.guaguas.com/lineas/planea-tu-ruta or Google Maps.
Bus tickets
You can buy a ticket on the bus or get a contactless card at one of the offices.
https://www.guaguas.com/tarifas-carnets/bono-guagua-sin-contacto
Bono estudiante
This is a monthly ticket which allows you to travel 80 times a month for 28€. You can order it online and pick it up at the office you chose.
https://www.guaguas.com/tarifas-carnets/bono-estudiante
Tarjeta Wawa Joven
This is a monthly bus ticket which allows you to travel all the island of Gran Canaria for 28€ per month. Requirement is the Canarian Residence. You can order it online and pick it up at the office you choose.
https://www.guaguas.com/tarifas-carnets/tarjeta-wawa-joven
Car rental
There are lots of cheap car rentals on the Canary Islands.
Cicar
But with this one I never had problems and the insurance always is included. You can reserve the car online or go straight to one of the offices.
https://www.cicar.com
Museums, exhibitions…
When you are visiting museums or buying any ticket always take your cards with you and ask for a students or Residence discount.
Accommodation
Look for a shared flat on one of the several Facebook groups. As there are many people going and coming, it is easy to find an accommodation.
Look for titles like: ERASMUS/ students/ ULGPC/ Flats/ Rooms/ Pisos
Residencia
With your room contract you can get the Canarian Residence "Residencia" which allows you to travel much cheaper (up to 75% discounts on flights and ferries) and to get discounts on museum and exhibition tickets.
It might seem to be a lot of work as you have to go to the police station and the town hall more than once with lots of documents but if you like to travel it's worth it.
Address of the Delegación del Gobierno en Comunidad Autónoma de Canarias
Plaza de la Feria, 24, 35003 LPGC
More information on the internet f.eg.: https://volkersgrancanariainfos.wordpress.com/category/nie-und-residencia/
Author: Julia Bernsteiner.