Erasmus at the University College South Denmark
Hey! My name is Victoria Kröll and I am 21 years old. I live in Graz, but I had the opportunity to go abroad from the 12.08.2019 until the 21.12.2019. My stay was in a small city called Aabenraa in the South of Denmark. My stay in Aabenraa was quite interesting when I compare it with my normal study life in Graz. We were 11 Erasmus students from Austria, Switzerland, Germany, Italy, Spain and China living in Aabenraa.
The thing that I learned here in Aabenraa is that the society here think Crossing Borders is important to learn to live with people from different backgrounds, be it German or Danish. Because of that my course in my University was called "Crossing Borders" to learn to be and live with people from all over the world.
The city has a population of about 16.000, and the interesting part is that in Aabenraa live Danish people, but also a minority of German speaking people. The city has a small city core with a lot of old nice buildings, a beautiful church and a lot of nice cafe's. For the younger population they have a big Arena where they can make many different sport types, but the most common sports were Handball, Disc and Football. The Arena also has a big swimming pool and a nice gym. Aabenraa has a lot of types of school for the Danish and German population. The best part of Aabenraa is that this little and lovely city has an adorable beach and a romantic harbor. In the sea it is possible to see some people rowing between all the birds. This city often offers different opportunities to go into the cinema, theater, join clubs or go into the High Park where you can meet new people. By the way, me and two other Erasmus girls joined the Danish rowing Club from Aabenraa. The people in South Denmark are so open for people from abroad, so I met really nice people who got really important people in my life and I am so happy that I had the opportunity to meet them and live with them, because of that I had the possibility to get insight of a Danish family life.
I lived in an apartment about 1 km away from the university. The apartment had a big kitchen, a nice lounge and three bedrooms. I have to say the bathroom was not the best and full of mold. One apartment with four girls was quite funny, because we made a lot together and we became really close friends in that short time. We were 11 girls in three different apartments, but we made a lot of great trips together for example to Rømø, Flensburg, Odense, Aarhus, Copenhagen and so on. The sad thing was that nobody came by car, so we had to organize bikes by ourselves and a Bus-card for travelling, but as a group we managed everything together. With the girls we made different topic evenings for example Spanish-, German-, Austrian-; Chinese-; Swiss- or Italian night.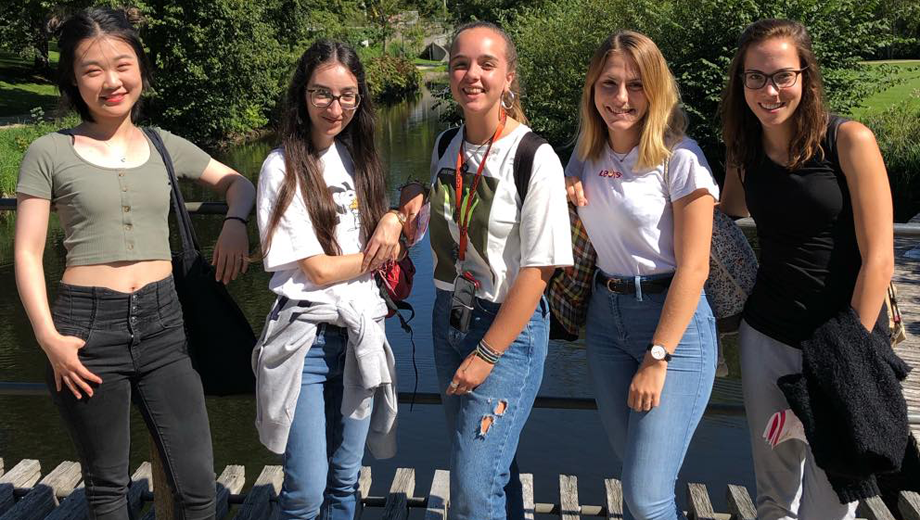 University College South Denmark is an amazing new building close to the city core. It has a lot of windows and is a really impressive building. The technology and the facilities are modern and useful. The university has many classrooms: a drama room, a music room, a library, an outdoor room, a sport hall and the most important thing: a cantina. The teachers are all so lovely and really on the best level of their knowledge. Every teacher works with you with respect, patiently and with honor. They never put themselves on a different level, they taught us: "We are all the same and not better than you!" I had three courses: Outdoor learning, cultural diversity in education and practical training. In one course we were with the Erasmus girls and in another course all Erasmus students were with the Danish students together. We learned a lot how the Danish school system is working and how different institutions (kindergarten, nursery, primary school, boarding school) are looking, organized and working. When I think back, we got all information on a learning platform called "itslearing". Everything is perfectly organized, and every homework and project was clear for us.
During my practical training I was three weeks in the "German-Private-School-Apenrade." It is a very small school with German and Danish students. Parents want that their kids grow up with two languages and learn more about two different cultures. Me and another girl from the University were in this school. We had the possibility to see a German-school life with the Danish curriculum in Denmark. We were allowed to observe our class and make our own lessons. It was so nice to be there, because of the lovely people and small cozy school it felt like being in a big family.
For me it was an amazing time and an unforgettable experience here in Aabenraa but I know it's time to say goodbye and go back to Graz. I am not sure how it feels not to be with my great roommates, new friends from University and my second family in Denmark. I will miss this calm and beautiful city a lot. Even though I was so scared at the beginning, the time flew by and four months were over. All the happiness and anxiety I felt at the beginning was lost so fast because I felt at home with all the people here. If I would get a second chance I would do it again, because it was one of the best things in my life.
Author: Victoria Kröll.