My life in Valencia/Spain (Fall 2019)
After my first Erasmus+ experience in Iceland, I thought a lot about a second attempt. There might never be another chance to live in a different country in such a context, as Erasmus is neither comparable with work nor with tourism. Needless to say, the destination should be (vastly) different from the first one. As my second opportunity arose, I thought no longer about extending my study time for another semester to go to an amazing place as the very first student of my university: Valencia.
Universidad Católica de Valencia
The Valencia Catholic University Saint Vincent Martyr (Universidad Católica de Valencia) is a private university that has its different campuses spread across Valencia. When I say across Valencia, I do not only mean the city, but the whole province. Starting with day one, you will have to go to the building of Santa Ursula, where they celebrate the Welcome Day. This was the only time I had to go there during my entire semester. Edetania is the Campus for Education. It is located in the northern part of Valencia, in Godella and Burjassot, and it is further divided into three venues, which are all close together. This was the main campus I had to go to every day. Another important place was the Language Institution (Instituto de Lenguas), where I learned the basics of Spanish and which is located in the first district of Valencia. Some co-students applied for sport courses, which then needed to go to the southern side of Valencia, to the Campus of Torrent. So, depending on which courses you might take and in which district in Valencia you decide to live, it might take you some time to get to the right campus. Especially at the beginning, finding the right place might appear difficult. I had an amazing buddy that showed me around, which helped a lot. Speaking of which, the buddy program of the UCV is amazing and the people are helpful and supportive.
The language and courses
Hands down, the language is an important factor which might lead to difficulties depending on your language skills, your courses and your perseverance, endurance, and openness to adapt. If you find yourself in English taught courses only, there will never be any issue. But if there is a slight chance that you do not, there might be a chance you find yourself in a classroom taught in Spanish. Now if you can speak Spanish fluently, that is great. If you do not, you will get around it, but your start might be a bit more difficult. Enjoy it though because your passive language skills will increase greatly and fast. Overall, most professors know the basics in English and might help you out with tasks and explain it to you in more detail. Also, a lot of students speak fluent in English or want to, so there is always a possibility to find a good tandem partner.
There are some courses which are taught in Spanish but are easy to get around even if you cannot speak the language, and music is a prime example of this. Not because it is easy, but because language does not matter for rhythm or hitting specific notes. Another subject that I liked was Sociedad, as it is interesting to know how people feel in another country about politics, society, education and more. Overall, do not let your decision be hindered by language skills if you are worried about it. The students, professors and coordinators are amazing and open people that will love to help you out. But you might want to make your life easier and learn a little bit of Spanish beforehand.
Bachelor Thesis
A possibility that you might want to look into is to write your bachelor thesis during your Erasmus+ program. I did my thesis on a comparison between Spain and Austria about digital competences in their respective primary schools and curriculum. Writing your thesis during Erasmus will give you the chance to know even more about the country you visit while also being able to give you more leeway in terms of topics.
Teaching practice
Even though I had no dedicated course to teach in Valencia, as I finished my teaching practice beforehand, I had the chance to teach through another course in Children's Literature. I only had the chance to kind of teach two times, but it was amazing. And yes, it felt different to when I was teaching in Austria or in Iceland.
Volunteering
Working in a special field without any payment but to gain a lot of experience and to meet other students is quite big at the UCV. Volunteering gets promoted a lot and you will see way more people doing volunteering than you might expect. I worked with children and it was a lot of fun. If you get to Valencia, make sure you try it out.
Traveling
During my semester at the UCV, I managed to visit a lot of other places where I have never been before. I did most of my traveling through carsharing or by train, bus, and metro. Carsharing is big in Spain and quite cheap, with many possibilities to find someone. There are also a lot of affordable public transport options. You will find my recommendations under "Links". Another possibility is to join the ESN network, which gets heavily promoted. It is really cool; you'll get to know a lot of students and you'll be able to travel together and even cook Paella.
I had the possibility to not only see nearly every corner of Valencia, but was also able to travel to Alicante, as well as Barcelona and Madrid. That being said, Valencia alone is quite big, and it took me some time to visit everything I wanted to. If you search for Valencia on the internet, one of the first things that you will get across is the Oceanographic and the complex of City of Arts and Sciences (Ciudad de las Artes y las Ciencias). This complex, alongside the beautiful beach and the Turia Garden made the most impact on me and I spent most of my time in those places. It is even more stunning than all the pictures when you see it yourself.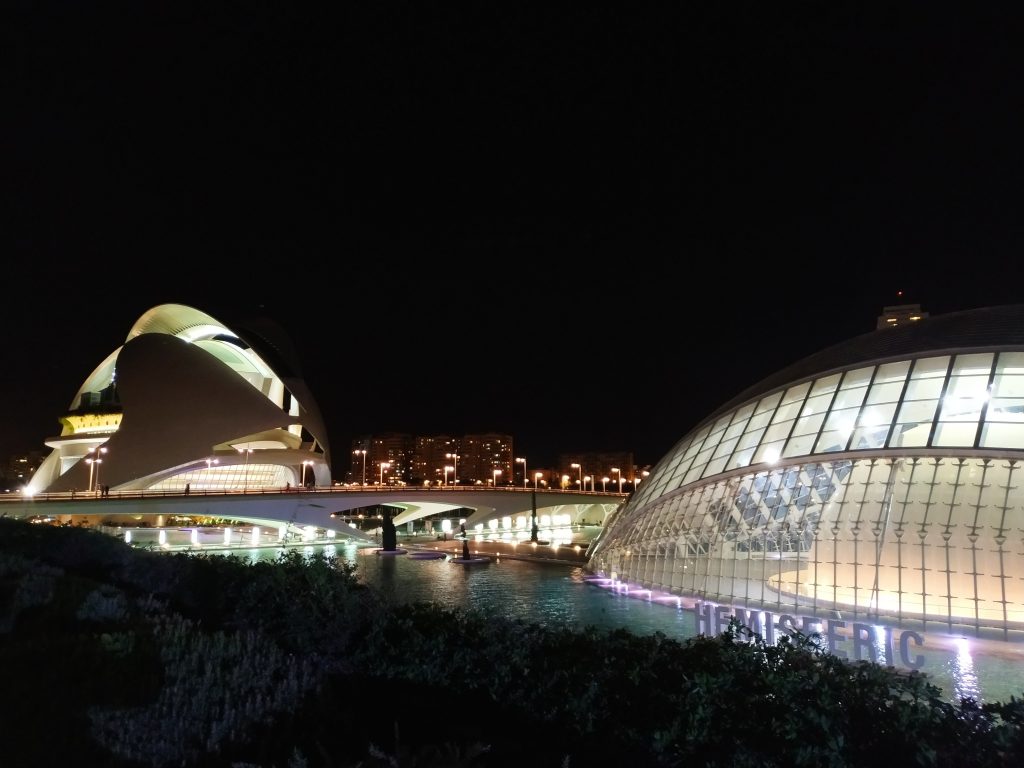 Living
Depending on where you want to live, living might be quite expensive. As someone who already lived in Iceland before, you might even reach accommodation prices like that. The first district is crazy expensive, but the quality of most flats is good. The more you leave the first district, the cheaper it gets. Depending on your courses, it might make sense to live in the northern part of Valencia if you only have courses in Godella. I lived in a big, shared apartment in the first district and the view over Valencia was really nice. Also, you have all connections that are necessary to reach any campus by metro quite fast.
The supermarkets in Valencia are a bit cheaper than what I was used to in Austria. But of course, depending on quality and where you buy stuff. I have never been to a Dia market and bought most of my groceries at Mercadona or Consum, as well as the amazing Mercado Central, where you get everything fresh until afternoon. There are a lot of fast food chains in Valencia. A LOT! Try them all out. It was my first time being able to eat at Taco Bell. And Pans. And a lot of others.
Mentioning food without Paella in a report about Valencia might be offensive, so I will put some notes on the most important dish here too. Paellas are amazing depending on the ingredients. You might want to refrain from eating near tourist places though, as the value might not indicate what you get served in the end. Also, most of the time, you'll see the price of Paella for one person, mentioning that you'll have to pay this price two times, as Paella is served for two people on a big pan divided in half, and there's no way around that. On the other hand, this most likely leads you to invite a friend or co-student, so Paella is the perfect bonding opportunity. Most restaurants in the first district are quite expensive, as well as closely all restaurants at the beach.
Weather
The weather was quite a change to my first Erasmus place. It is always sunny. Like, Valencia is known for having maybe two rainy days in summer. And it is hot. Also, there will be no snow during winter.
Overall
I would give Valencia 11/10 for the time I was able to spend there. The people are fun and friendly, especially when you try your way through your daily life with a broken Spanish. Everyone will appreciate you trying. The weather is always good and lastly the University, the staff and professors are amazing.
Links
Daily life
Try to get a TuiN JOVE card, as this will make your travels from and to the campus cheaper:
The TuiN JOVE card works like a prepaid card. You charge the card with some money through cash or your debit/credit card and then proceed to "stamp" it every entrance and exit. It is the cheapest possible way to travel in Valencia with public transport.
There are a lot of possibilities to find your right accommodation. I found mine on Badi but used Beroomers and Uniplaces at the same time to increase my chances to find a room. I can only recommend everyone doing the same, as accommodation is always a hot topic at the start of the semester.
Also, do not forget to include the discount code from the university, as you'll get a small discount on some fees. You should get this code with the accommodation E-Mail from the UCV. ESN also provides a small discount for Badi, as those two are partners.
Travel
Also, try to get your Alsa+ membership, which will make traveling by bus even cheaper.