Erasmus in the country of bicycles, cheese, tulips and rain (lots of it)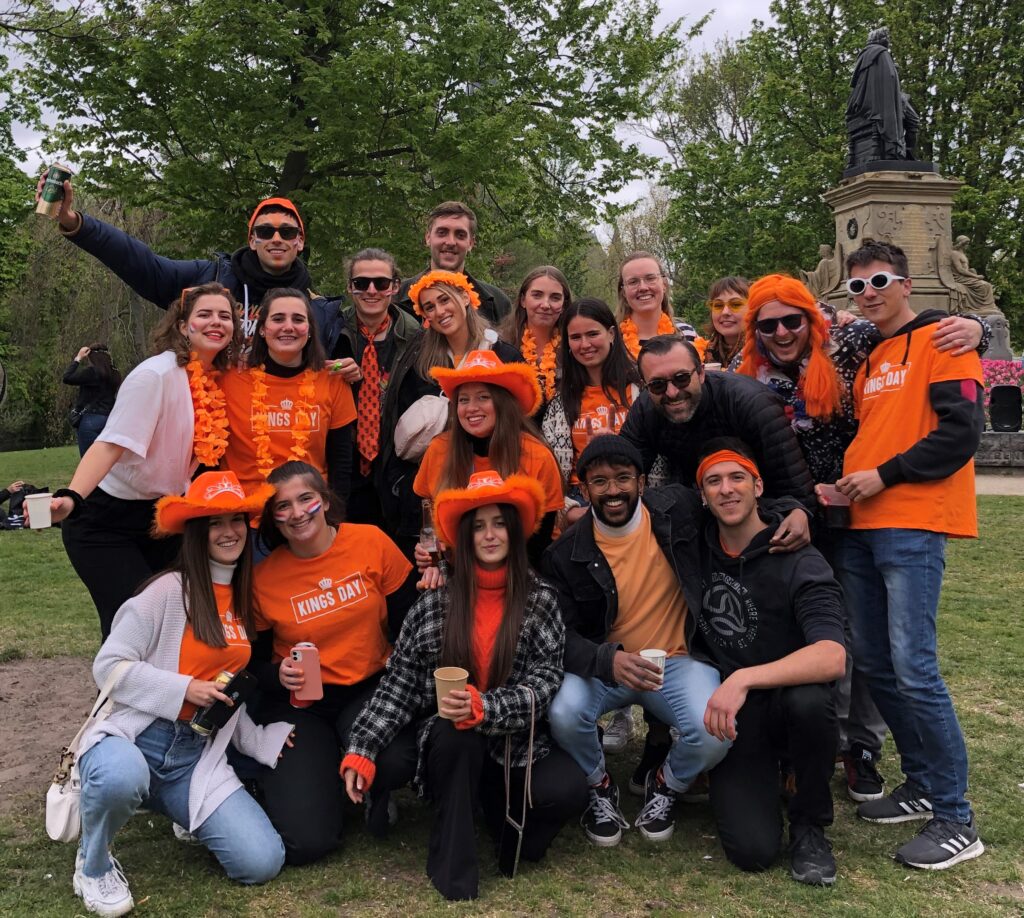 Last year I made for sure one of the best decisions in my life: going for Erasmus to the Netherlands. Looking back on the last half of a year I'm overwhelmed by all of the good memories, great experiences and travel moments I could collect as well as the amazing people I've met during my stay.
Together with a friend of mine I started my Erasmus journey at the end of January 2022 by train. We first went from Vienna to Amsterdam before heading to Zwolle, the city our university was located in. There we got picked up by a professor that brought us to our final destination: Dalfsen. Dalfsen is a small village on the countryside with probably more cows and horses than inhabitants but also with cute shops, friendly people and a beautiful landscape. All the international students that took part in the study programme of our university were staying there in different types of housing. It was great living all together only a few minutes by bike away from each other. I stayed in the "Hotel Barones" and for me personally it was the perfect accommodation for these months. I shared one big common kitchen with 11 other students and each of us had their own room including an own bathroom.
Dalfsen is a 7-min-train-ride or a 50-min-bike-ride away from the city we studied in, Zwolle. Zwolle has a beautiful city centre with nice shopping streets, great cafés and restaurants and a big park where we spent a lot of time after university together. We did our studies at KPZ Hogeschool, a familial university for Teacher Education. I consider myself more than lucky that they've created a new International Minor with the focus on Outdoor Education including the SDG's (Sustainable Development Goals) for this summer term. We had great introduction weeks, a decent study schedule, two amazing project weeks, we took part in the "Teachers in Europe Conference" and had once per week teaching practice in a primary school. I couldn't have asked for a better study programme and I couldn't have wished for better teachers to carry it out. The teacher team consisted of rather young professors that were proficient in their subjects and in the English language. Most importantly, they treated us like equals and we also got to know each other on a personal level.
Another great thing about the programme: Dutch students could choose to take part in the International Minor, too. That way we got even closer to the Dutch culture and language. The organisation of the internship in the schools was well thought-through. We worked in a triangle of two foreign students and one Dutch student in order to teach lessons and perform mainly outdoor activities in school. It was a great experience to have an insight into the Dutch educational system and gain experience in a Dutch primary school. The pupils in the Netherlands start very early to learn the English language and in my case I could talk with them quite a lot. Of course, you (need to) learn other ways of communicating than just through verbal language but that's also a positive part of your own learning progress of teaching.
I'm not joking when I say that I could go on forever and ever telling you about my unforgettable time here in the Netherlands. If someone would have told me how much I would grow in this short time of only 5 months and that complete foreigners would turn into something I would consider my family, I wouldn't have believed a single word.
I can recommend you with all my heart choosing the Netherlands and especially studying at KPZ Hogeschool in Zwolle for your own Erasmus experience. Although it might rain every single day for more than a month, you will appreciate every sunny day even more. There's no bad weather, just bad clothing! You will never forget the endless tulip fields in spring, the big parties on King's day, your bike rides with friends and your day trips to the beautiful capital city Amsterdam. But I have to be honest, in the end it doesn't really matter what country you choose to study abroad because it's the people that make your time so special! The only mistake that you can make is to not dare to go out of your comfort zone, face new challenges that come along with a new country, language and culture and to not choose to go study abroad. I can promise you, you won't regret your decision!
Author: Melanie Prasl