International Week der Comenius Association in Esbjerg: Imagine and Create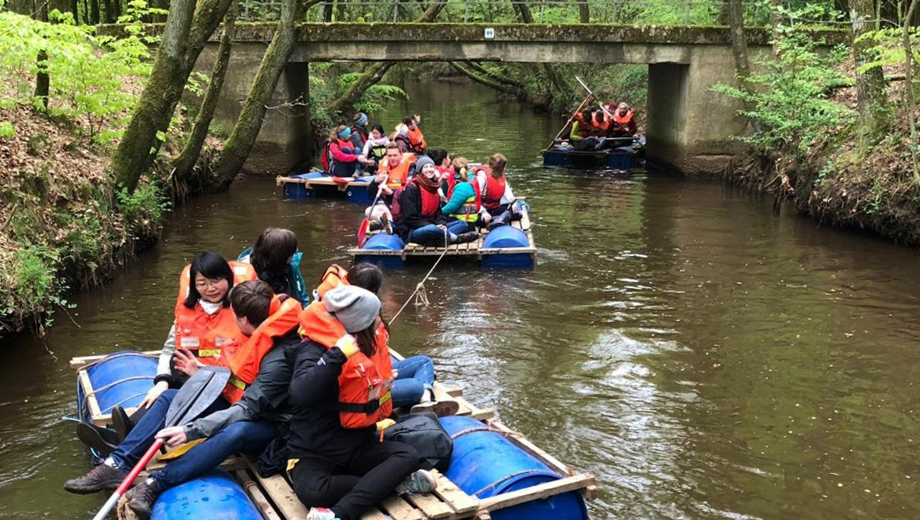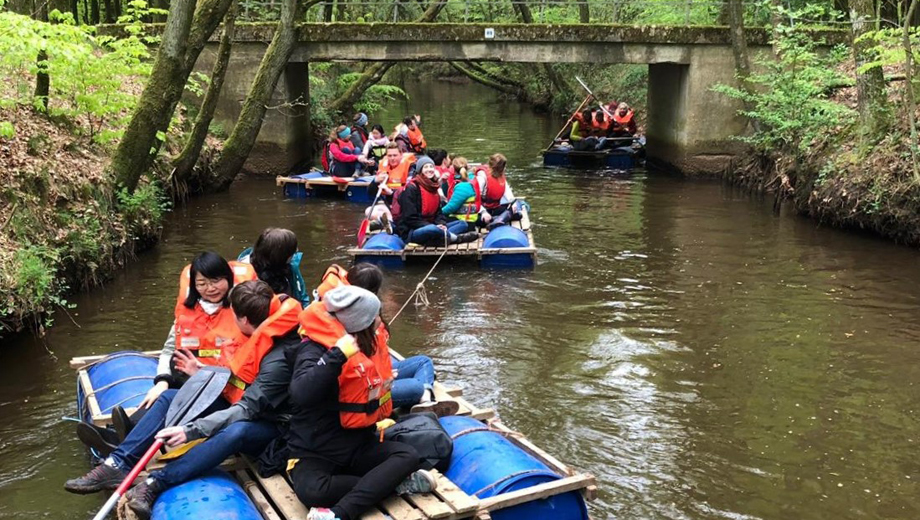 In der Zeit vom 29.April bis 03.Mai 2019 haben wir, drei Studentinnen aus dem Bachelorstudium Lehramt Primarstufe der Pädagogischen Hochschule Steiermark, an einer "International Week" in der dänischen Stadt Esbjerg teilgenommen. Die Universität UC SYD hat die Woche dem Thema "Imagine and Create" gewidmet.
Bereits vier Monate vor Beginn des Programms haben wir einen genauen Zeitplan, mit allen Aktivitäten der Woche und zusätzlichen Beschreibungen, zugeschickt bekommen. Alles war bestens organisiert und so mussten wir uns auch um die Unterkunft keine Gedanken machen, da wir in den universitätseigenen Studentenwohnungen in der Nähe des Campus untergebracht wurden.
Die Universität UC SYD hat mehrere Standorte, die sich über den gesamten Bereich Süddänemarks verteilen. Der Campus in Esbjerg ist bereits etwas älter, allerdings fehlt es an nichts. Neben modernen Hörsälen, einer hervorragenden Mensa, die sogar ein Frühstücksbuffet anbietet, und neuen Sportplätzen gibt es auch ein Schwimmbad. Hervorzuheben ist auch die unglaublich freundliche Art aller Unterrichtenden, die wir kennenlernen durften.
Bereits am Sonntag den 28. April 2019 machten wir uns auf die Reise nach Esbjerg. Am Montagvormittag startete unsere internationale Woche mit einem Workshop zu den "Digitalen Bildern". Am Montagnachmittag besuchten wir das Kunstmuseum der Stadt und fuhren zur Tagesreflexion ans Meer. Der Dienstagmorgen begann mit einer Sporteinheit mit Teamspielen auf einem Sportplatz im Freien. Danach bekamen wir eine kurze und interessante Führung durch den Hochschulcampus. Auch an einigen spannenden Vorlesungen konnten wir teilnehmen. Eine kulinarische Weltreise, wo wir Speisen und Getränke aus allen vertretenen Ländern verkosteten und auch das jeweilige Schulsystem präsentierten, fand bereits am Dienstagabend statt. Am Mittwoch hatten wir unseren großartigen Outdoor-Tag, an welchem wir den ganzen Tag in der Natur verbrachten. Der Besuch einer dänischen Schule stand am Donnerstag an. Der letzte Abend wurde mit einer Hotdog-Night abgerundet. Nun ging die internationale Woche auch schon wieder dem Ende zu. Am Freitag erstellten wir in Gruppen Videos, wo wir die ganze Woche kurz darstellten. Abschließend präsentierten wir die Videos und erhielten danach unsere Teilnahmebestätigungen.
Unser Highlight der Woche war der Mittwoch, unser Outdoor-Tag. Wir starteten ganz in der Früh und fuhren mit dem Bus ein Stück aufs Land. Am Flussufer in einem Wald hatten wir die Aufgabe, in Kleingruppen ein Floß aus Fässern, Holz und Schnüren zu bauen – eine herausfordernde aber wahnsinnig lustige Erfahrung. Die Floße wurden anschließend auf einer ca. einstündigen Floßfahrt auf dem Fluss getestet. Nach einer kurzen Joga-Einheit, bei der uns wieder warm wurde, hatten wir die Aufgabe, in Kleingruppen einem Weg rund um einen See zu folgen. Auf diesem Weg hatten wir verschiedenste Hindernisse zu überwinden, Rätsel zu lösen und mussten zwischendurch selbst Pancakes über einem Lagerfeuer zubereiten. Wieder am Ausgangspunkt angekommen wärmten wir uns am Lagerfeuer und hatten wiederum selbst für unser Abendessen zu sorgen: es gab Grillgemüse und Würstel. Der Tag wurde noch mit einigen Bewegungsspielen abgerundet, die dafür sorgten, dass wir sehr müde, aber voller schöner Eindrücke am Abend wieder in unserer Unterkunft ankamen.
Auf der internationalen Woche lernten wir zahlreiche einfache, aber gut durchführbare Teamspiele kennen. Auch die Kreativität kam durch die zahlreichen künstlerischen Gruppenarbeiten nicht zu kurz. Generell durften wir erfahren, wie wichtig Teamarbeit ist und möchten dies später auch unseren Schülerinnen und Schülern vermitteln. Des Weiteren wurde uns gezeigt, wie wir neue Medien, wie beispielsweise "I – Pads" im Unterricht einsetzen können. Wir konnten durch den Outdoor Tag auch einen außerschulischen Lernort kennenlernen und durften dort unsere eigenen Teamkompetenzen auf die Probe stellen.
Authors: Maria Loibner, Angelika Streicher, Jana Werner