Katholieke Pabo Zwolle – The Erasmus-Story of Kathrin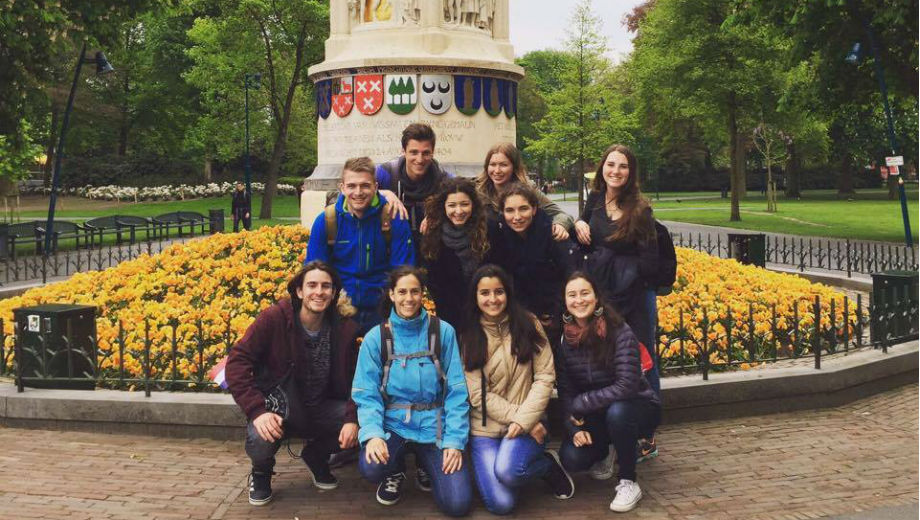 Katholieke Pabo Zwolle (KPZ) is an independent university of applied science and teacher training college, which focusses on students becoming excellent primary school teachers. The university has more than 650 students and more than 70 employees. KPZ is known as the best teacher training college in the north of the Netherlands.
I was impressed by the university's personal and inspiring atmosphere and its modern building. The mentors taught us to think out of the box, which also means to deviate from mainstream ideas. KPZ provides a safe learning environment and creates a strong community feeling. It also focuses on alternative education, which I really appreciated and enjoyed during my teaching practice.
University:
Interactum University of Applied Sciences
Teacher Training College Primary Education
Hogeschool Katholieke PABO Zwolle
Ten Oeverstraat 68
8012 Zwolle
The Netherlands
Erasmus/International Office:
Mr Harrie Poulssen
E-Mail: h.poulssen@kpz.nl
Ms Ria Posthumus
E-Mail: r.posthumus@kpz.nl
Study program:
English Language
The objective of this course revolves around writing and presenting an academic paper in English in which your own written work will play a pivotal role. This very short course of 4 lessons focuses both on the development of academic writing skills and strengthening presentation skills. By the end of this introductory course, you should be more confident about the way you write and express your opinions and you should be more suitably expressive with your voice and your body while presenting an argument.
Culture and society
World Citizen Project. This module focuses on our common (European) future and the role of education in it. Moreover, you are confronted with the question in which way history, culture (including art) and society shape our cultural identity, our way of being.
Pedagogy
You learn to use a lesson preparation that meets the criteria and how to use various didactical teaching methods which contribute to a proper pedagogical climate. Dutch and international concepts such as Jenaplan, Dalton, and Development Education (Reform Pedagogics) are discussed.
Dutch language
Several aspects of learning and teaching the Dutch language are part of this course. Non-native speakers will improve their understanding as well as their pronunciation of Dutch. You gain insight into functions and components in languages, theories on language development and differences and similarities in languages. You will design teaching material based on aspects of linguistics.
International Primary Curriculum (IPC)
IPC is: Great Learning, Great Teaching, Great Fun. The International Primary Curriculum (IPC) is a comprehensive, thematic, creative curriculum for 3-12-year-olds, with a clear process of learning and with specific learning goals for every subject, for international mindedness and for personal learning. The IPC has been designed to ensure rigorous learning but also to help teachers make all learning exciting, active and meaningful for children. Learning with the IPC takes a global approach; helping children to connect their learning to where they are living now as well as looking at the learning from the perspective of other people in other countries. The IPC is used by schools in more than 90 countries around the world. Source: http://www.greatlearning.com/ipc/the-ipc/what-is-ipc
In this course, students will study IPC together. The students prepare and execute a theme in the primary school.
Coaching/counseling and tutorship
You reflect on yourself, your role and the roles of others in a team of colleagues. You prepare yourself for the teaching practice and make a design of an imaginary ideal school using the knowledge and experiences acquired during the courses and practical training and research.
Drama/Music
You learn songs and games for children from several countries and teach your fellow students a song from your home country. You learn about the didactical approach of teaching a song and you make a video production out of a picture book for children using methods of drama.
Teaching Practice
You gather a broad picture of Dutch education and reflect knowledge by doing goal-oriented observations. You prepare and carry out lessons in your teaching practice class.
Teacher in Europe conference
You learn in an international environment how to design a project under Erasmus and to complete a final proposal.
Project week Randstad                  
Cultural trip (3 days) with your fellow students to the Randstad, the Western part of the Netherlands. This includes 2 overnight stays in a Stay-Okay hostel in The Hague. You reflect on two experiences during this week in a paper.  For participation in excursions and the Project Week, you have to pay a contribution of 100 euros.
Registration Process:
First, you need to write a letter of motivation and you need to have a recommendation from a self-chosen teacher of your home university. Afterward, you are able to sign up to an online platform at your home and your host university. This process was followed by a mail from the international office of Zwolle with an invitation to a Skype interview, which I had with Bert. We talked about my studies, my teaching experiences and why I wanted to study abroad. I was also able to ask questions and got to know the university a bit better.
Arriving in Zwolle:
Ria asked us beforehand if we needed any help to get from the train station to our rented house, but as we had a house close to the city center and train station it was not a problem to get to our new house easily. We chose a house via Airbnb as the university only offered us a place at the camp side, which was too far away for us. Another housing possibility was a student house in Leliestraat but we didn't have any chance to rent a room there.
Ria informed us very well beforehand about our courses and our introduction week. I felt safe and well-informed when I arrived at the university on our first day. The introduction week was fun and we got to know better our new fellow students.
Finances:
The life in the Netherlands is more or less as expensive as Austria. In the city center of Zwolle are cheap as well as expensive restaurants. Most grocery stores are open every day, even on Sundays from two to six o'clock. Jumbo and Albert Heijn are the more expensive supermarkets, but there are also cheaper ones like Lidl or Aldi.
For our housing, I had to pay €400 a month all included.
Teaching Practice:
I got the opportunity to teach at the International School in Eerde and therefore my classes consisted of learners from all over the world. I was looking forward to my teaching practice as I have never experienced an international school before. I was very curious about my learners' cultural backgrounds and how the communication between me and my learners will be.
Particularly one teacher motivated me a lot for my future teaching career. She advised me to carry on with my studies and to do the CELTA program for English teachers, which enables you to teach in many international schools around the world. As she has always believed in me and said that I will be a good teacher, I really got motivated to do such a program to be able to go abroad again and to discover new cultures, school systems and to learn as much as possible.
Written by Katrin Watzinger, Katholieke Pabo Zwolle, The Netherlands, Mobility For Study, PHST