My life at the University of Barcelona (or short, UB)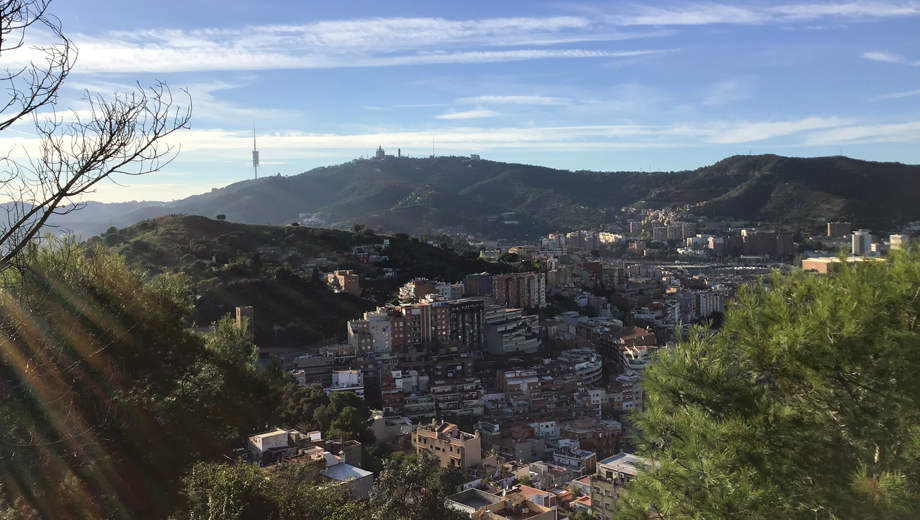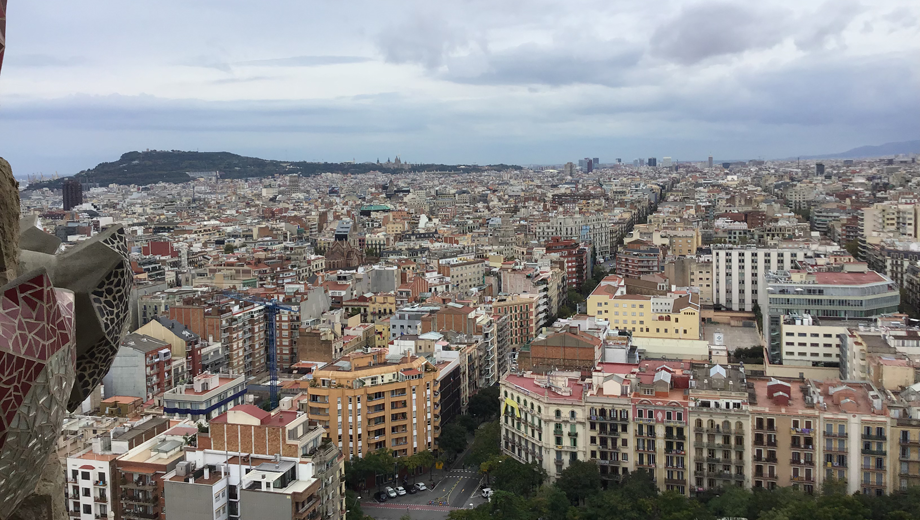 During my 7th semester, I got the opportunity to study at the University of Barcelona, or short, the UB. The Campus I was studying at is located close to the mountainside. As I didn't have any intention of living in the centre anyways, I took my chance to live close to the Campus and get a hold of the beautiful nature you can find there.
On the day of my arrival (I arrived pretty early, as I took a flight in the morning), I only took care of the most important things – meeting the family I was going to live with for the next 3 to 4 months (more about how I found my accommodation further below) and getting a hold of how the traffic system works in Barcelona (in other words getting information about the different lines of the Metro, the sights next to them and so on). The days after were consumed by how I can get everything together for my studies. Thankfully, there was a Welcome Session during the second week after my arrival, in which the teachers of the university gave us information regarding the campus, traditional foods, sports, and, finally, the city itself. Plus, we had the chance to meet students from other countries as well. And finally, as my courses started, I was able to learn a lot about the History of Barcelona and how to teach English in primary school (a small hint – children learn a lot of English in Spain nowadays). There would have been also a lot of opportunities to learn Catalan or Spanish through some courses. But believe me – your timetable will be full if you're going to do the practicum, so you won't be able to attend those, sadly.
Accommodation in Barcelona
There are countless Homepages you can strike through to get a fitting place for yourself. Here is a shortlist about the Homepages and my personal opinion on them:
uniplaces.com
This was the first site I had an eye on. Some offers are really cheap, but you have to be fast. What I didn't like were the additional expenses (they are lowered every time a new semester starts by 25%, but still. As other websites don't have additional expenses, you might end up paying more if you book your place on uniplaces).
badi.com
This is where I found my accommodation. You will find lots of good offers on this site. And the most important thing: there are no other expenses. Plus, you can have the opportunity to live together with a family – something I'd really recommend to someone who wants to learn more of the national language. In general, keep in mind that living with a family is nice, but also has its own challenges ;).
facebook.com
Yes, facebook. No joke, there are a LOT of good offers for accommodation in Barcelona on the well-known social media platform. I had a fake account for a long time and used it for browsing through some offers, and I can honestly recommend it to everybody. A lot of the people that put their accommodation for rent there are also able to speak English.
idealista.com
Some of the offers you can find on idealista are found on badi as well (and the other way around). There are no expenses either, so I can only recommend this as much as I'd recommend badi.com. If I hadn't been able to get my place through badi, I guess I would have chosen a place through this website.
Being an English Teacher during my School Practice
For myself, this was the funniest part of my Erasmus program. As it wasn't possible to teach like in Austria (of course, because they don't speak German at the primary school), I was able to teach English not only in one class, but several classes across different grades in the Gravi School in Barcelona (very close to my own university, and only one Metro Station away from my own home as well). In total, I was teaching in 12 different classes (due to the fact that the primary school lasts not only for 4, but 6 years in Spain!) there and it was a lot of fun to teach English, as I really enjoyed the way the children behave to a person that is not familiar with their own first language. They welcomed me heartily, as did my teachers. They have been open to me from the start, and I can honestly say we grew together a lot during these 2 months. Yes, 2 only months, because I was going to the school two times a week from 9 to 17 o'clock. The lesson planning was done the same way as in Austria. But as Erasmus-Students we had more freedom there, as we were able to choose the topic ourselves (even though it was good to ask about what the students did the previous time at the course, so you were able to make a follow up). I also had the chance to have a look at how the teachers are teaching English there themselves, so I can honestly say: children of this generation are learning a lot nowadays (as they have at least one English lesson every day).
In the end, I was very happy with the outcome of my practicum at the Gravi School. Not only because of my grade, but also because of connections I made. Additionally, I was staying there a lot more times than necessary, as I also wanted to participate at the Christmas celebration during the last week of my stay in Barcelona (I was playing along with the guitar while the pupils were singing the song "I feel good").
The City itself as well as the sights of Barcelona
The most important thing to know when you arrive in Barcelona – the Metro is able to take you anywhere. Plus, there are a lot of buses. Best part of it – if you buy a ticket for the whole semester (either the Jove, which is a representing a Student card for Students younger than 26 years, or Trimester Ticket, a pretty cheap 3 months card for Students 26 years and older), you can take every TMB-Bus as well as all the Metro lines (except the ones that start with an L, but those are only 2 lines). Those tickets are pretty cheap for what they offer – as you only pay around € 110,- for the Jove and only € 140,- for the Trimester card.
Places that I visited a lot during my stay have been the Plaça Catalunya, the Plaça Espanya as well as Las Ramblas and the Port of Barcelona.
For shopping purposes, I can recommend the Plaça Catalunya the most, they even have an Apple Store there (a huge one) as well as a MediaMarkt (which kind of surprised me). You can also find a theatre there, called "Teatre Tivoli". During my stay, I watched the theatre "La Jaula De Las Locas". As it was purely in Catalan, I didn't understand a lot, but with a bit of information about the play, I was able to still follow the performance until the end.
Restaurants I visited have often been close to the Port, for example the "König" restaurant. It's pretty cheap to eat there, but really, really good! There have been times when people even had to wait outside and stay in line to get a place to eat there (so make your reservations fast!).
Las Ramblas is the perfect place to find souvenirs. You can eat there as well, even though the people of Barcelona themselves will tell you not to do it, as it's not really a traditional Spanish kitchen. I ate there myself twice, and I can say it's not bad. I hope nobody will criticize me for saying it – but the Paella there was as good as anywhere else. Only the prices are a bit higher at Las Ramblas. If you're still not sure about that, you can also buy fast food like Sandwiches at Pans or Burgers at McDonalds. The best place to buy food is the huge market at Las Ramblas, called "La Boqueria". You can find all kinds of stuff there, like different sorts of fish, crabs, nuts, fruits, meat or sweets. But be prepared to spend a lot of time there if you want to buy something, as there is always a lot of people there.
Regarding the sights of Barcelona – the most beautiful places I visited have been the beaches (of course, there are a lot of them at the beach of Barceloneta) and the Sagrada Familia. Talking about the beaches – even though there are a lot of beaches in Barcelona, I would recommend visiting the beach in Sitges and Tarragona, as those are more convenient (there are less tourists, they are cleaner and the sight is better in my opinion).
Regarding the Sagrada Familia, as there are many possibilities to order tickets for it, I'd recommend to buy them from this site: https://gotobarcelona.barcelona.ticketbar.eu/de/home/
The reason is, that if you don't have a credit card, you won't be able to buy them online otherwise most of the time. And if you want to buy them directly in front of the ticket shop, well… again be prepared to spend a lot time, as you will be waiting in line for a respectable amount of time (that's one of the "don'ts" in Barcelona again anyways!).
This was a short insight on my Erasmus studies in Barcelona. I'm still waiting for my Transcript of Records, but that is okay. We've been told to wait for it until the end of the next (yes, next) semester. It's just like everything else in Barcelona – chill, relaxing. I really enjoyed it and can only recommend for other students to go abroad as well.
Author: Martin Fürstler