My semester abroad in Trondheim (Norway) from January until July 2021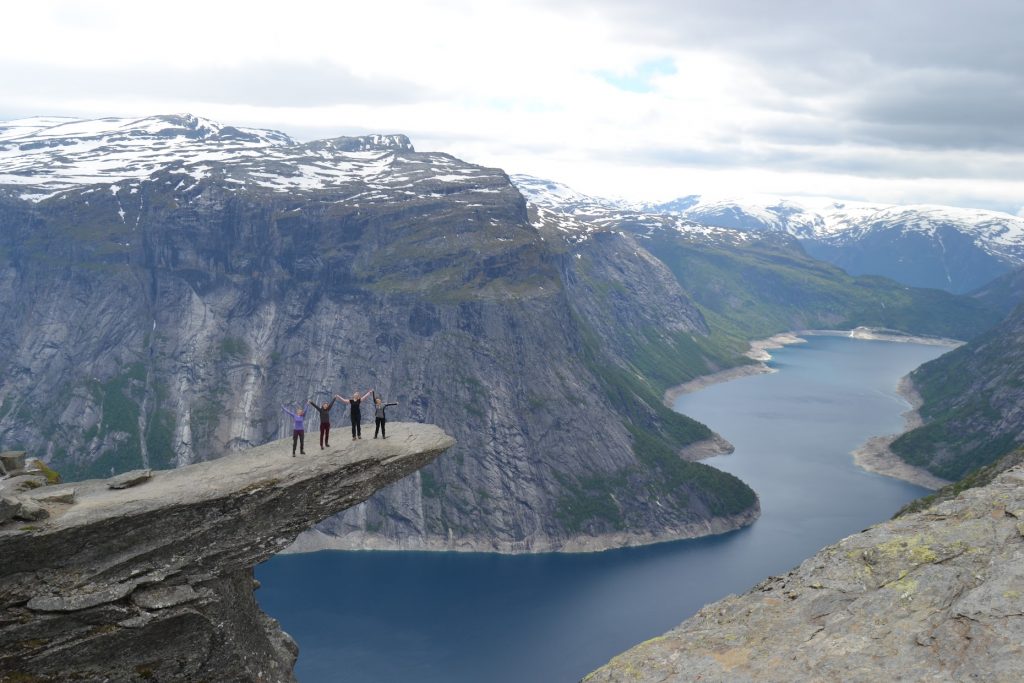 Accommodation
My semester abroad began with a stay of 10 days in a quarantine hotel because of the restrictions of Norway due to COVID-19. But this time was a good opportunity to slightly begin my time in Norway: We were allowed to leave the hotel for small walks and I was able to explore my future city a little.
After my stay in the hotel, I moved to my room in the student village "Stiftsstaden studentby". The conditions were quite okay there, but it was expensive. I had to pay about 530 Euro per month for my room. Normally, you get a room through the University, if you apply for it, and they are a little cheaper but not that close to the city centre (SiT: Moholt and Steinan studentby). Other Erasmus students lived in the following student villages: Camp Trondheim, AHA Eiendom, Voll Studentby and Rosenborg Studentby. A lot of my friends found a room in a private shared flat through Hybel.no.
Public transport and mobility
In winter, I can recommend buying a bus ticket for public transport (AtB). Public transport is quite good in the city, but gets worse in the countryside. It is possible to reach certain cities like Røros or Oppdal by the bus, but it is easier to drive there with a car. A lot of (German) Erasmus students had their cars with them and offered them during cabin trips, trips for skiing etc. Friends of mine and me also rented a car twice for our holidays on the Lofoten and our road trip from Trondheim to Bergen. Sixt gives you a discount as a student at NTNU. Trains can be found on Vy.no.
Another opportunity for travelling is Hurtigruten. As a student, you can book a ticket on deck (without booking a cabin) for about 40 Euros and you can travel on this big cruise ship without spending so much money. The rule is just that you are not allowed to stay more than 24 hours on the ship. A lot of points can be reached with ferries. If you are travelling without a car, you can often go on the big ferries without paying anything (e.g. from Bodø to Moskenes or from Flakk to Rørvik).
In Trondheim, I used the bus from January to March and was using a bike since April. You can get cheap bikes, kitchenware, furniture etc. on Finn.no, Restore and Tise.
Living conditions
Norway is quite expensive, especially public transport, food and alcohol. Going out is really expensive but I can recommend going to Egon Tårnet and eat from the pizza buffet or eating pizza at Grano Trondheim at lunch time.
The weather is quite cold in Trondheim and it can have up to -20 degrees. A hot tip is to check the weather every day on Yr.no. It is normal to see snow on the streets in May and to feel hot with 18 degrees.
Norwegians are friendly people but also a little bit distanced. I was surprised that nearly every Norwegian was able to communicate in English, also salesman and elderly people. I didn't have to use my Norwegian language skills that often.
Study life and the university
Studying at NTNU was great. Although most of the courses were online (during the pandemic), we were allowed to use the library, the cafeteria and other facilities from the university. I can highly recommend you using the library to get in touch with other (international) students in comparison to sit alone in your room. The international office was anxious to help international students with all questions. During the pandemic they didn't arrange festivals or an orientation week, but WhatsApp and Facebook groups replaced it and we organized hikes, bonfires or cabin trips on our own. It is also quite easy to find new friends because there are hundreds of international students every semester.
Buying a membership of the gym (SiT) is also a good idea to meet new people. They offer a wide range of sports, I only went to yoga classes.
As a student of teacher education for primary school I chose three different courses: Introduction to Norway, Norwegians for Foreigners (language course) and English 1 (1-7) module 1. The courses were interesting but also time intensive. The lecturers were friendly and competent and the relationship between students and lecturers is closer than in Austria. A significant difference is also that I had to read much more literature during my studies in Norway than in Austria. During COVID-19 I only had online exams.
Exploring Trondheim and Norway
Norway is the perfect decision for you if you love nature. You are going to meet a lot of other Erasmus students who are "outdoor freaks" and love hiking, camping, alpine skiing, cross country skiing, ski touring and taking an ice bath in the sea in winter. Trondheim offers a lot of these possibilities in its large park and nature reserve Bymarka. You can take the tram to Lian and start to hike or ski there.
Seeing Northern lights is also possible in Trondheim. Another strange thing is that you arrive in winter with 4-5 hours of light per day and that it gets never dark in June (on the Lofoten you can enjoy midnight sun).
Cabin trips were definitely my highlights in my semester abroad. The university has about 20 cabins and you can book them quite cheap for some days. A lot of equipment like snowshoes, skiis, backpacks, tents, ice skates etc. can be borrowed for free from NTNUI Bumerang, which is also organized by the university.
My other highlights were travelling to Bodø-Lofoten-Tromsø in Easter break, roadtrip from Trondheim to Bergen in June (Kristiansund, Molde, Trollstigen, Geirangerfjord, Trolltunga, Sognefjord, Flåm) and 4-weeks-tent trip in June-July on the Lofoten-Værøy-Røst-Bodø-Helgeland.
Growing as a person
Erasmus is a perfect opportunity to find yourself, to find new friends all over the world, to live in another country for one semester, to improve your language skills and to enjoy your life.  It was the best choice and decision for me to go to Trondheim, and I would love to do it again! Thank you for making it possible!
Anna Frank