New Eurydice Report: Modernisation of Higher Education in Europe: Access, Retention and Employability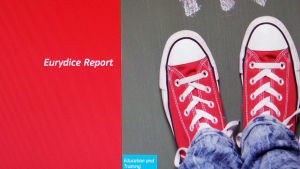 Der Eurydice Report über die Modernisierung der tertiären Bildung in Europa behandelt die Themen Rekrutierung, Bindung und Beschäftigungsfähigkeit von Studierenden.
Neben vielen anderen Ergebnissen zeigt der Bericht:
In wenigen Ländern gibt es Ziele zur Verbesserung

des Zugangs

zur höherne Bildung für unterrepräsentierte Gruppen (zum Beispiel Personen aus

einkommensschwachen

Gruppen).
Viele Länder sammeln und analysieren Daten über Studierende. Die Ergebnisse haben aber nur geringen Einfluss auf politische Zielsetzungen.
Viele Länder erfassen weder Abschlüsse noch die Drop-out-Raten der Studierenden.
Der aktuelle Bericht umfasst Österreich und weiter 35 europäische Länder.
Weiter Informationen
Download Modernisation of Higher Education in Europe: Access, Retention and Employability
http://eacea.ec.europa.eu/education/eurydice/documents/thematic_reports/165EN.pdf