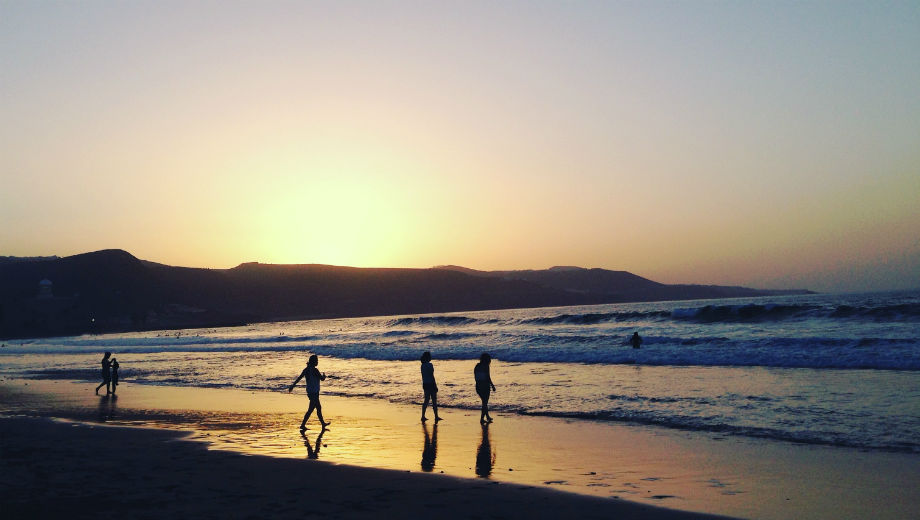 My journey to Gran Canaria has been a great experience so far. As soon as I arrived I fell in love with this Island, the culture and the people. Everyone is friendly and they never rush which is exactly what I like. On my second day here I directly went on my first trip to the south of the Island to a part which is called Maspalomas. The first week was a little bit rough because I was supposed to move in to my apartment, but the landlord canceled last minute so I had to find a new flat. Meanwhile I could live with my friend which was actually the best thing that could have happened because I met so many new people through her. So after visiting some apartments I found the perfect flat right in front of the la Cicer beach which is the best place if you are into surfing. I love my new flat and also my roommates. I share my flat with 4 other people from Germany, Italy and Czech Republic. So it is quite multicultural and a lot of fun.
What did I do so far? Well some of my Austrian friends came to visit me, we were exploring the Island. We drove in to the mountains and the view was breathtaking. On the way we passed some small villages and got to see how the locals live and tried a variety of their typical regional food like cheese, special baking goods, regional almonds, Spanish tortilla, papas arugadas and much more.
During the week I mostly go to university and on Wednesday night there is a bar where all the Erasmus students meet up which is quite nice to meet your friends and get to know new people. On Thursday nights there is always tapas night in an old part of the town called Vegueta. It is a small street filled with very nice bars which serve tapas for 1 Euro all night. The street is full of people chatting and having a good time.
Whenever I have spare time in the afternoon I try to go surfing. I signed up for some classes since I am a bloody beginner but I already made some progress and it is so much fun.
About the university I have to say it is very different to mine at home but I always have a good time there. My professors are all very nice and so are the students. I enjoy going to university because I like my classes and the activities and group works we do. The students and the teachers don't really speak English very well so I try to talk to them in Spanish and English. I try to improve my Spanish every day but the progress takes time. I love the language so I really want to get better and I think living here is the best opportunity to improve.
In conclusion I have to say I am happy I got the chance go here, to study in another country and to enjoy this great adventure with all my new friends I met.
Sandra Kontschieder