VoiceS: 2nd Austrian National Group Meeting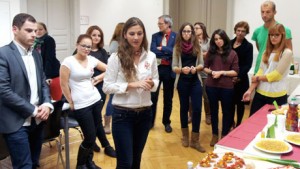 The 2nd Austrian National Group meeting will take place on Wednesday, 26.03.2014 at the University College of Teacher Education (room A01120, 18:00 to 19:30 pm) in Graz. VoiceS and its possibilities and chances for members of the Austrian National group will be introduced and discussed by the project coordinator Henny Oude Maatman of Saxion University, Netherlands. Maria Pichlbauer, local school authority, will introduce "School partnerships granted by the EU". Teachers and students from Austria, Belgium, the Netherlands, Spain, Portugal, Turkey, Switzerland, the Czech Republic, Italy, Hungary will join the meeting.
You are an interested teacher and you want to join the meeting? Please contact the Austrian National Group Leader Susanne Linhofer (susanne.linhofer@phst.at).
More infromation
European-Teacher
http://www.european-teachers.eu/
VoiceS – 1st National Group Meeting in Graz
VoiceS In-service course Graz 2014. Apply now!