Wroclaw- the Flower of Europe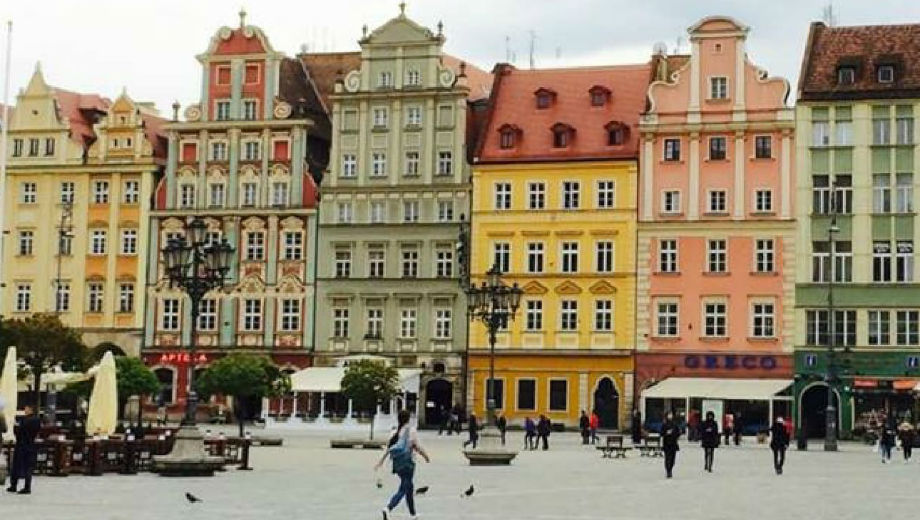 Wroclaw (image by Nina Marin)
Why Poland
When I told my family and friends that I decided to spend 5 month in Poland they said to me that I am crazy. They asked me: Why Poland and why you didn`t choose the north like Norway or the south like Spain? My answer was short and easy: I have never been in Poland before and I know nothing about this country. So let me try.
The way from Austria to Wroclaw
I took the bus from Vienna to Wrocław. The journey was spectacular and funny, because it was a really small bus and, except of me, nobody were able to speak German or even English. This was the first time that I had contact with Polish people. After seven hours we arrived in the center of Wrocław. My study bodies Magda and Kasia picked me up and brought me to my flat.
My flat called Renoma residence
I rent a flat with eleven other Erasmus people. 6 French, 2 Spanish, 1 Italian, 1 German and me the Austrian girl. I had my own room and I shared the kitchen and the bathroom with a really nice French girl. The living room was the meeting point for all of us. We spent a lot of great time there. Either we threw a crazy party or we spent a cozy afternoon there, ate international food and watched a movie together.
Wyższa Szkoła Filologiczna we Wrocławiu
My university, called Wyższa Szkoła Filologiczna we Wrocławiu, was a private one and I really liked it. Most of the courses were in English, but I also attended two courses in German and I am really astonished how good the students were in speaking German. Sometimes we were only around seven or even less students in one class. It was really familiar, because the teachers knew the names of the students. I really have to say that the level in the universities of Poland is much more easier than in Austria. All in all I did 36 credits.
My courses:
Culture of German-Speaking countries
Didactic of German language teaching
Didactics
EFL Conversation
Audiovisual Materials
Language Acquisition and Learning
History of English Literature
Culture of Great Britain
Didactics of English language teaching
Information Technology
Polish course
GFL Conversation
Wroclaw- insider tip
Wrocław (pronounced Vrots-warv) was the culture capital city in 2016. In this wonderful city of colorful houses, gnomes all around the city, cheap nightlife and non-stop festivals you can find German architecture combine with Polish culture. It is a student city along the river Odra with small and  charming cafes, picturesque streets and the popular beautiful market square called Rynek. The old town was completely destroyed in the Second World War. After the polish inhabitants rebuild the city again.
Wrocław is also called "the Flower of Europe".
Bridges, islands and churches
Wrocław, the water- city, has 12 islands and 100 bridges along the Odra. The "Dome-island" and the "Sand-island" have eight gorgeous gothic and baroque churches, which are all worth to visit.
Funny gnomes
When you walk around the city it`s important to look around to find some different and funny gnomes. In 2001 students began to establish the gnomes and in the meanwhile you can find more than 300 around the city. This gnomes, in polish called "Krasnale", are the smallest emblems of Wrocław.
Cafes and Clubs- my favorites
Wrocław is definitely a student city because you can find a lot of great cafes, bars, clubs and restaurants.
One of my favorite cafe is the amazing "Art Café Kalambur" ( ul. Kuznicza 29a). During the day we enjoyed a coffee or the special lemon juice and at night it turned into a music bar and disco. This hipster bar is really famous because inside it looks like an old theater and in every corner you can find some perplexing pictures or colorful retro-lamps. You can`t miss the bar: It´s near the university of Wrocław and on the wall outside is a dragonfly and a crocodile with a red balloon.
Literatka, is a nice café-bar on Rynek. In winter you can choose between two floors and some comfortable old sofas and chairs. The walls inside are red-painted and the bar is kind of dark and smoky. Around 12am you can meet retirees smoking, drinking a big beer and a 4cl shot of Wodka. One recommendation: During spring and summer you can sit outside drink beers and watch tourist around the market square.
You can find the Vinyl Café in the center of the city. Coffees, cakes and small meals will deserve in a homelike armchair. There you can lend some board games and interesting books. In the café they only play different music with vinyl records.
The best place to go if you like jazz live music is Mañana on Wednesday. Young and old audience listen to live bands and enjoy the nights. In summer you can also sit in the front court.
Das Lokal is called the club for techno lovers. It`s a little bit outside of Rynek, but you can dance until the sunrise and leave the club at midday.
Cheap- cheaper- cheapest = Przedwojenna (ul. św. Mikołaja 81) or how we called it: The 4 Zloty bar. Perfect bar to start or end the evening. There you get vodka or beer for 4 PLN (1 Euro) and beef tartare for 8 PLN (2 Euros). The bar is nearly open for 24 hours and the ambience and the music remind on the prewar time.
Pasaz Niepolda (Ruska Strasse 51) is the party place for young people. Only 5 min away from Rynek is the courtyard with bars and clubs. Every Wednesday, after the bar Mañana, we went to this place and started at the classic pub Niebo, where a great live band played. We tried there nearly every pub and club like the Celtic Pub, the techno club Metropolis, the spanish club Mundo or the club Melanz.
Słodowa Island (Student Island) is an island in the north of Rynek next to the Odra. All year long the island is under the "reign" of students. During the weekend it`s crowdy and young people celebrate, drink, play games and dance open-air.
Special drinks
Poland people love vodka (wodka) and beer (biwo). Poland is known as the birthplace of vodka and that`s why you can see and drink it everywhere and at every time.
Common brands of "wodka" are:
Żubrówka (Zhoo-BROOF-ka) – vodka with flavors derived from Bison Grass, from eastern Poland.
Żołądkowa Gorzka (Zho-wont-KO-va GOSH-ka) – vodka with "bitter" (gorzka) in the name, but sweet in taste. Just like Żubrówka, it's an unique Polish product and definitely a must-try.
Wiśniówka (Vish-NIOOF-ka) – Cherry vodka (very sweet).
Krupnik (KROOP-nik) – Honey and spices vodka, a traditional Polish-Lithuanian recipe (very sweet). During winter, many bars sell Grzany Krupnik (warm Krupnik), where hot water, cinnamon, cloves, and citrus zest or slices are added.
Żytnia (ZHIT-nea) – rye vodka
Wyborowa (Vi-bo-RO-va) – One of Poland's most popular rye vodkas. This is also one of the most common exported brands. Strong and pleasant.
Luksusowa (Look-sus-OH-vah) "Luxurious" – Another popular brand, and a common export along with Wyborowa.
Starka "Old" – A vodka traditionally aged for years in oak casks. Of Lithuanian origin.
Today Poland is one of top beer countries in Europe.
Common brands of "biwo" are:
Żywiec (pronounced ZHIV-y-ets)
Tyskie (pronounced TIS-kye)
Okocim (pronounced oh-KO-cheem)
Lech (pronounced LEH)
Warka (pronounced VAR-kah)
Łomża (pronounced Uom-zha)
Traditional meals – Smacznego (Mahlzeit)
Polish people like meat, sauces and vegetables.
Żurek
Zur with potatoes, Polish sausage (kielbasa), and Egg (jajko). Depending on the part of Poland it came from, it may contain mushrooms as well. This dish is also called żurek starowiejski ("old village"). It is frequently served in an whole bread.
Pierogi
The well-known Polish dumplings called pierogi are one of national dishes and for sure one of the best recognizable Polish foods. The popularity of pierogi probably originates from the fact that this Polish food is varied, with quite a few fillings. So we have not only ruskie pierogi. In general, we have a whole gamut of tastes, for example, there are delicious pierogi with forcemeat, mushroom or cabbage.
Bigos
Bigos, in English language known as the Polish hunter's stew, is one of national and traditional Polish courses. A true touristic 'must eat'. Bigos is a stewed dish made from cabbage as a main ingredient. Fresh cabbage can be used as well as the soured one, called sauerkraut. Apart from cabbage, on a list of ingredients you can also find: diced sausage, dried mushrooms, onion, sometimes apple or dried plums and a characteristic unchanging set of spices: bay leaf, grains of black pepper and allspice.
Gulasz 
A stew of meat, noodles and vegetables (especially potato), seasoned with paprika and other spices.
Golabki
Polish golabki is a cooked knob of forcemeat wrapped up in a leaf of a white cabbage. Important ingredients are: groats, onion and an appropriate blend of spices. Sometimes mushrooms are added to the filling.
The Polish money Zloty
The Polish Zloty is the currency of Poland. The currency code for Zlotych is PLN, and the currency symbol is zł. 1 Euro is about 4 zloty.
Poland- perfect location to travel
I love to travel, visit new places and meet new people around the word. That`s also one point why I chose Poland. Poland is quite in the center of Europa and from there you can reach lots of different places for less money.
Auschwitz and Birkenau
It`s not the best destination to start, but I thought if I am in Poland I have to see this place. We rent two cars and started our trip in the morning from Wroclaw. After 1,5 hour we reached Auschwitz. We had no feelings and no notion what we will expect there. We passed the gate with the sign "Arbeit Macht Frei", where millions of people walked to their death. Suddenly my heart stopped for some seconds and my whole body was shacking.
Auschwitz was the first and smallest concentration camp built by the Nazis. The camp is nowadays a "museum" where each building (or let say each block with its number), has been given a particular name to show the visitors the horrors that took place during the Holocaust with pictures, signs and explanation panels.
Even after the visit I can´t describe the place and my feelings, because I know how and how many  people died there without case. Anyway it´s "worth" to go there and see what human were capable to do to each other. IT`S HORRIBLE!!!
After some hours in Auschwitz we went by car (only 5 minutes) to Birkenau. Birkenau is the most infamous place where the worst bestialities took place. It is the biggest camp, where millions of people died in the  gas chambers and from inhuman living conditions. It held more than 90.000 prisoners at a time and more than 1.5 million people (90% Jewish) were killed in there. Everything was unbelievably surreal. After Birkenau I only had words like COLD, HATE, SILENCE and PAIN.
Zieleniec Ski Arena
Some of my friends and I love skiing. So we decided to go to a ski area for one weekend. We rent three cars, booked an apartment, packed our winter clothes and said: LETS GO TO SKI. We chose the ski area called Zieleniec. This place is next to the Czech border and for Polish people a quite big mountain. There are 20, mostly short, shaded runs at Zieleniec serviced by 19 lifts. We were the whole day on the ski arena and had a lot of fun, because we were 11 people.
It`s really worth to spend a weekend outside of Wroclaw in the mountains. Anyway I have to say that you can`t compare it with the Austrian Alps.
Warsaw (Warszawa)
Of course I also visited the capital of Poland. By train (10 euros both ways) I went there with four girls which I meet in Wroclaw. I realized that Warsaw is different than the other cities. The capital is spread across a broad area with diverse architecture. In spite of the cold and rainy weather we saw a lot of great things.
Trip around Poland
Finally we decided to do a trip around Poland. We rented a polish car and started around 4pm. Our first destination was the Słowiński National Park. After 7 hours in the car, strange and lonesome roads and a stop-and-search-operation we found our Airbnb house. Next day we woke up early and drove to the national park. It was amazing: We were at the sea!
Our next stop was the small village Hel where we enjoyed delicious fish for lunch. We spent the second night in the High5 Hostel in Gdansk.
For me Gdansk had an unique feel and was definitely one of the best cities in Poland I have seen. Its small with lots of churches, next to the sea, has a beautiful Rynek and during the night you can drink some beers and listen to streets musicians. Half an hour from Gdansk is the village called Sopot. There we enjoyed the sun, lay at the beach and ate ice cream.
We also did a stop in Malbork. There we wander through the halls, corridors and chapels of the castle of Malbork. It`s really worth to go inside and walk around the small town, because it is Europe`s biggest medieval fortress.
On the way back we also spent one day and night in the Gothic town Torun. In this five days we saw so many amazing things, towns and places in Poland.
Krakow
Krakow is the second largest and one of the oldest cities in Poland. There and throughout the old town are hundreds of restaurants, bars and clubs. Rynek is surrounded of colorful houses, churches, and outdoor restaurants. Especially, the Wawel Cathedral and Royal Castle is worth to see.
Denmark
My last big trip was to Denmark. As always we rented a car, bought some food to eat, because in Poland it`s so much cheaper and started our long travel.  After nine hours we reached the town Haderslev, where we slept at one of my friends sisters flat. Next day we woke up early to visit some villages around like Ribe, Romo and Vesterende Ballu. On the way to Copenhagen we stopped at a town next to the harbor called Årøsund. In the evening we slept in a small Airbnb flat in Copenhagen. I want to mention that Copenhagen is one of the best and beautiful city I have ever seen. We rented some bikes and drove around the whole city. We saw: Rosenborg Castle, Kings Garden, Nyhaven, Popiroen (hipster place), Det Kongelige Theater, Norrebroparken, Christianshavn and so much more. It was amazing and beyond words! Especially young people will love it!
Last of all I want to tell you the most important phrases in polish: How I survived 😀
| | |
| --- | --- |
| Cześć | Hello |
| Dzień dobry | Good morning/afternoon |
| Dobry wieczór | Good evening |
| Do widzenia | Good bye |
| Nazywam się … | My name is… |
| Smacznego! | Have a good meal |
| Przepraszam! | Excuse me! |
| Dziękuję | Thank you |
| Kocham Cię | I love you |
| Proszę | Please |
| Tak | Yes |
| Nie | No |
| Nie wiem | I don`t know |
| Nie mówię po polsku. | I can`t speak polish. |
Nina Marin