Erfahrungsbericht Erasmus+ : Gran Canaria
G R A N C A N A R I A
Where and when did you do your Erasmus semester?
I spent a semester abroad at the University of Gran Canaria in Spain during the winter semester of 2022/2023. I was there for only one semester. There were exactly three Erasmus spots available and my friend from university in Austria and I got two of them. I had known her since my childhood and we were really happy to go to Spain together.

Why did you decide to spend a semester abroad with Erasmus?
I chose to go abroad because I wanted to get to know other cultures. It is exciting to be exposed to a completely new situation and to leave familiar surroundings. I was also interested in how other universities create lessons. I also wanted to get to know new people and life on my own. In Austria, I still live at home with my parents. That's why it was a big step abroad for me.
My greatest motivation was to live somewhere else and to get to know another country. It was also important form e to improve my English and Spanish.
I decided to go to Spain in particular because of the weather. Gran Canaria is close to Africa, so it is very warm in winter. We never had less than 25 degrees the whole stay. It was really incredible.
What was your first impression of the university and the lectures?
I had the feeling that the lectures and seminars were much more relaxed. Lectures, for example, sometimes spontaneously started half an hour later. Overall, everything took place on a smaller scale, so that the teachers were able to work more closely with students. The professors were very nice and helpful, especially once they knew we were Erasmus students. There were several Erasmus students in my classes. The system with the courses is very complicated at the beginning. After a while, however, you can find your way around with help. The students are very polite and helpful. That saved me a lot of time and nerves.

How was your school practice?
The school practice was incredible. I met so many nice and new people. I got to know a new school system and many new strategies to teach. In Spain, primary schools put a lot of emphasis on hygiene and care. I admired that very much. The break times are very different. The children have a big long break once a day and then there are no breaks except for the snack break.
I got on really well with the teachers. I taught German and English. I had so much fun. Of course, I also learned Spanish, which is now easier for me to speak and write than before.
I really took the children to my heart. At the end, I received lots of presents and was sung a concert with my name on it. I will remember that forever. I am still in contact with my two teachers. I am really happy about that. I will never forget these five weeks.

Tell me more about your accommodation..
My accommodation was a house full of Erasmus students. I was not aware of that from the beginning. We had 3 floors with 4 bedrooms each. Each floor had its own kitchen and two bathrooms. I lived on the 4th floor with 3 girls. All 3 girls were German-speaking. On the one hand, this was an advantage, but on the other hand, I couldn't improve my English or practise my Spanish. On the other hand, the German girls were able to get to know some Styrian words. The flat was very big. I had a large room with a double bed, my own walk-in closet and a desk.
The flat was in the centre of Las Palmas. It was a 10-minute walk to the beach and the promenade. 2 minutes walk to the supermarket and 4 minutes walk to the shopping area. The walk to the university was a 20-minute walk every morning. I was able to do sports and exercise in nature. The flat is really very recommendable. I have already recommended it to a friend from my university back home. She will be staying in my flat during the summer
semester. Together with the other flats, we often cooked and celebrated. It was really an incredible time in this Erasmus house.
CITY
The city of Las Palmas is beautiful. There are many restaurants right on the beach. Many small cafés and lots of attractions. The city has a lot of palm trees. In winter, the palm trees were decorated with fairy lights. That looked great. On the way to the beach there are many bakeries with fresh sweets and pasta.
There were many volleyball courts on the beach. Every afternoon I went to the beach to play volleyball with my friends. There are many excursions you can do in Gran Canaria. We rented a car almost every weekend and drove around the island. We went to 10 different beaches and climbed many mountains. Together with other Erasmus students, we had the time of our lives. All the worries around were forgotten. The weather was incredible every day. It felt to me like an eternal summer that never ended.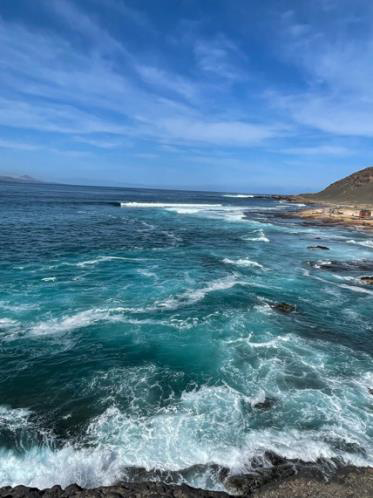 Text and pictures by: Rainer Alina