Erfahrungsbericht Erasmus+: Kopenhagen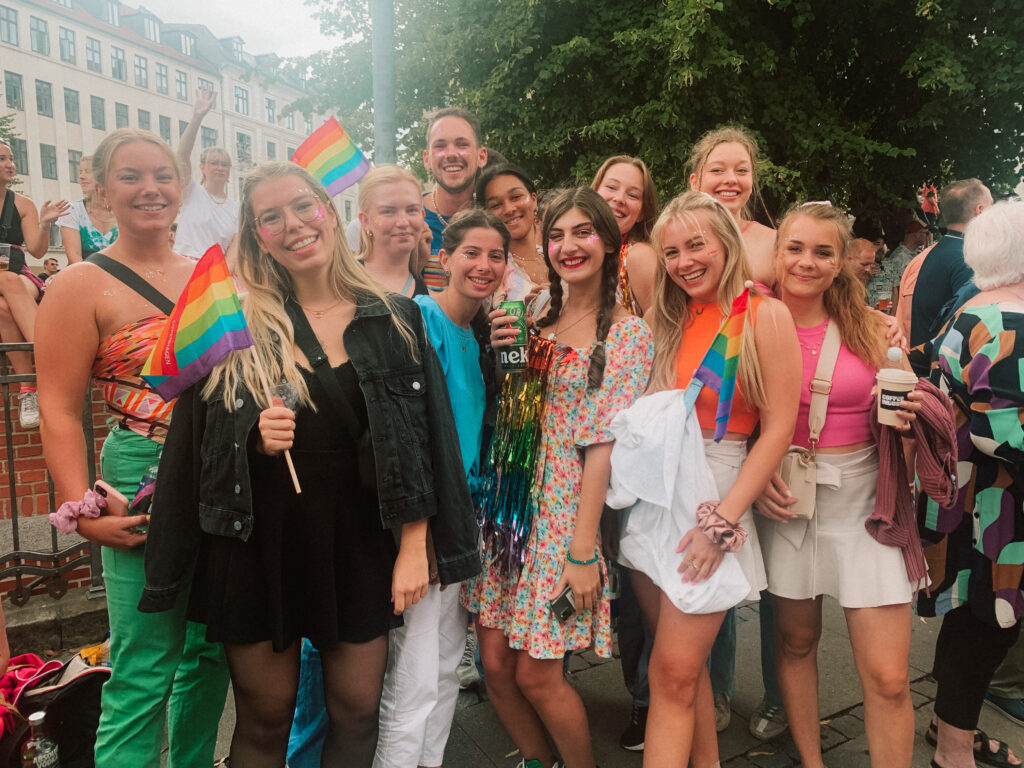 Copenhagen – a city that leaves nothing to be desired
I spent the winter semester 2022/23 in Copenhagen and studied at the KP, and I would like to give you a little insight and a few tips for a semester abroad in Denmark! Right at the beginning, I would like to tell you that I can only recommend a semester abroad in Copenhagen to everyone. Denmark is a great country, and the people are – once you get to know them a little better – very warm and really helpful. The university is well-equipped, especially for teaching students, and we not only learned a lot in the courses, but also had a lot of fun. The city of Copenhagen leaves nothing to be desired and there is always something to do – whether it's lying on the beach and swimming in the sea in the summer or strolling through the Christmas markets and the Tivoli in the winter.
University and internship
The campus for teacher education at Københavns Professionshøjskole was stunning, and the university building is one of the most modern I have ever seen. There are countless chill-out-areas and study spaces for students and also cheap coffee – which is always good to know, especially in Copenhagen.
I attended three courses at KP: German as a Foreign Language, Musical Expression in Teaching and Learning and the International Practicum. For each course you get 10 ECTS and the courses always take place every week for about 3-4 hours. So I had to be at the university 2 days a week and teach at my internship school 1-2 days a week.
All the courses were really diverse and the teachers are very kind and competent. The work assignments tended to focus on applying knowledge rather than theoretical work, which is why in music we performed our own dance, composed a song or had a body percussion workshop. As music students, we were also allowed to use the university's instruments for free at any time, so we were often doing jam sessions together in the music rooms!
The internship was slightly different for each person, I (although I study primary education) taught English in a 7th grade, so 3rd grade MS or Gymnasium. I had complete freedom in planning my lessons and always taught at least 4 lessons in a row. The school was also very modern, each student had their own laptop and the lessons were much freer and more open than in Austria. Immersing myself in the Danish school system was very exciting and gave me many new ideas and perspectives for my own teaching.
Accommodation
I got my accommodation through the university. I registered (for the winter semester) on the university website in May and then received an offer for a student's dorm. I would definitely recommend looking around yourself, as you can often find shared flats in Facebook groups. Of the student residences for internationals, I can really recommend "Basecamp" in terms of location. Otherwise, there is "The Mark" (modern and really nice, but expensive) and the "Håndværker-Skolehjemmet" (the cheapest option, not quite as modern but well equipped for the price). For accommodation you have to calculate at least 600€, but most people paid between 750€ and 950€.
Living in Copenhagen
In Copenhagen, the main way to get around is definitely by bike and the bicycle infrastructure is extremely well developed. If you want to get a bike, I would recommend Swapfiets, they offer bike subscriptions for a good price and if something breaks down, they will exchange the bike for free.
The public transport network is also very well and there are two options for using public transport:
1. If you travel mostly by bike, the Rejsekort is a good choice. You can load it up with money at almost every station and have to check in and out for every ride. There is a personalised version, but in my opinion the anonymous card is perfectly fine.
2. If you use the public transport most of the time, a monthly pass is a good idea. You can buy it directly in the DOT app and it's definitely worth adding the metro for a small extra charge!
In Denmark, you pay by card almost everywhere, so you don't really need cash unless you go to a flea market (the flea markets are really great, by the way). Here I would recommend opening an account at an online bank so that you don't have to pay charges for every payment. Copenhagen is a rather expensive place, but as long as you don't go out to eat every day, you can get by quite well 😊
You can't get bored in Copenhagen in my opinion, but to finish off, here are a few things you need to see:
Tivoli (the decor changes every season, so if you plan to go more than 3 times, it pays to get a yearly ticket).
Reffen Streefood Market (closed in winter)
Ny Carlsberg Glyptotek (free entry every Tuesday)
Folkehuset Absalon (a social space with many creative offers and a cheap dinner in a converted church)
Grundtvigskirche (make sure to check opening hours beforehand)
I'm really glad I chose Copenhagen, I met wonderful people, made great trips and look back on a semester full of adventures. Therefore, regardless of where you end up, I can only recommend a semester abroad!
Text: Melanie Linschinger